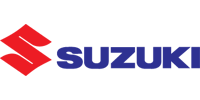 How Would You Like 15% More Low End for Your Suzuki?
Then we've got just what your looking for. Kustom Kraft Performance has been designing and building Big Bore kits for over 40 years. Our Suzuki Big Bore kits can produce up to 30% more displacement and 30% more torque and the best part is they totally reliable. The horse power gains are mostly in the low RPM range and not wholly above the redline like some other modifications.
Not sure you can handle the wrenching task? If you can rebuild a top end you can do the big bore kit. Here's how it works. In the case of most 2 strokes. Tear down the top end and send us the cylinder, cylinder head, and exhaust valves if any. For 4 stroke models all we need is the cylinder. Be sure to print out the job order form and fill it completely. Carefully pack your parts so they don't get damaged in shipping. Send them to us along with the order form. We will bore out your cylinder and re-plate it or sleeve it as needed. We supply all the special big bore parts such as piston kit and gaskets when needed. Complete instructions will be included.
Suzuki 2 Stroke Off Road Motorcycle Big Bore Kits
RM 65 2003-2005 71cc $389
RM 85 2002-2006 100cc $429
RM 125 1989-2006 134cc $489
RM 125 2004-2009 144cc $489
RM 250 most years 265cc $525
RM 250 2003-2008 293cc $649
Suzuki 4 Stroke Off Road Motorcycle Big Bore Kits
DRZ 125 2002-2006 143cc $339
DRZ 250 2002-2007 300cc $399
RMZ 250 2004-2006 300cc $389
DRZ 350 1990-1999 450cc *case boring required/not inc. $459*
DRZ 400 2000-2006 440cc $509
Suzuki 2 Stroke ATV Big Bore Kits
LT 80 All Years 105cc $499* *case boring required/not inc.
DRZ 350 1990-1999 385cc $339
DRZ 400 2000-2006 453cc $509
LT 500 1987-1990 530cc $555* *case boring required/not inc.
Suzuki 4 Stroke ATV Big Bore Kits
LT 230 1985-1989 260cc $359
LT-Z400 2000-2006 453cc $509
LT-Z400 2000-2006 440cc $509